Free Installation. Free Servicing. No Capital Costs.

About Cork Vending
Cork Vending Solutions is an established and energetic company providing a complete beverage, confectionery and refreshment service. We are a Cork based and owned vending machine company. We offer both branded non-branded machines which means that the customer can list items they want sold or even de-list items if needed. We have been operating for a number of years and have built up a wide range of customers.

2 Hour Service Guarantee
If you ever have a problem with one of our vending machines we guarantee to visit you on site within 2 hours (often much sooner). We have a number of engineers based in Cork so we can always get to your vending machines no matter where you are. Our office hours are 08:00 to 18:30 Monday to Friday and we also provide a twenty four hour on call service including weekends and bank holidays so you are never left stuck for stock or repairs.

Our Vending Machines
At Cork Vending Solutions we pride ourselves on the quality of our vending machines. Reliable and perfect for any environment, we offer both branded and non branded vending machines for offices, factories, gyms, schools, universities, colleges and more. As Cork's only full service vending machine company we are not restricted in the products we can offer you so you and your team can mix and match to your hearts content.
Why Choose Cork Vending Solutions?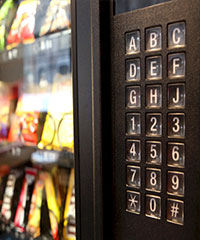 What makes Cork Vending Solutions the vending machine supplier of choice for some of Cork's leading businesses, schools, colleges, gyms and factories?
Aside from our outstanding customer service and reliability, Cork Vending Solutions can provide your organisation with any brand or product you want!
We are not tied to any one provider like many of the other vending machine companies in Cork which means you can pick and mix from any of the leading brands.
Contact us today on 087 817 9621 to discuss your needs and we guarantee that if we can source it, you can stock it in your vending machines.
Get In Touch
Contact us today to learn more about Cork Vending Solutions and how we can work with your business to provide a tailor made vending solution for your organisation.